Welcome, parents and teachers!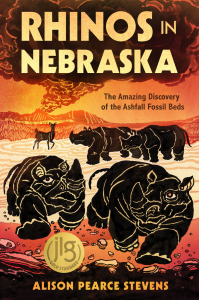 Rhinos in Nebraska is the perfect complement to the fourth grade curriculum, tying in with social studies, science, and language arts standards.
I teamed up with reading specialist Jen Heithoff to create Language Arts activities to accompany the book for fourth-grade teachers who want to use Rhinos in Nebraska in the classroom.
You can find the full suite of activities at Jen's Literacy Spot, and you can download one for free right now: just click here!
Additional Rhinos-related Language Arts activities can be found in my Follow the Evidence post on Patricia Newman's LitLinks blog. These activities encourage students to identify evidence, examine details, and integrate knowledge.
Looking for something else?
Below you can find links to activities related to my short stories and articles: discussion questions, games, and classroom activities. Science News for Students stories link directly to the supplemental information available on the SNS website.
Interested in bringing environmental issues into the classroom? Check out my article, "Discovering Native Bees" in the 2011 issue of Green Teacher. Classroom activities available in Green Teacher Online.
And if you're looking for a less stressful classroom environment, check out this 2016 story on the benefits of mindfulness for teachers.
Please take a look around. If you're looking for something specific and don't find it here, please let me know!
Sort by publisher:
Highlights for Children (Grades 1-5)

ASK magazine (Grades 1-5)

Science News for Students (Grades 6 and up)
Sort by topic: