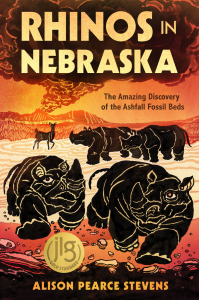 "Young fossil enthusiasts will be fascinated by this story of the Ashfall Fossil Beds." – Booklist
"Fluid nonfiction storytelling presents the research in terms of mysteries to be solved, and readers gain an increasingly fuller picture of the work and its results with each new revelation." – School Library Journal
"Jaw-dropping nonfiction." – Child's Play Books
"Welcome evidence that paleontology is about more than dinosaurs." – Kirkus Reviews

"Stevens skillfully narrates the journey dozens of scientists undertook to excavate, identify, and preserve the fossils" – Publisher's Weekly
"A wonderful and engaging look at the hidden gems that can be found in the most unlikely of places." – Sara A., Librarian, NetGalley review
"A science book that reads like an adventure novel! It's fast paced and fascinating!" – Kathy C., NetGalley review
Rhinos in Nebraska tells the tale of a supervolcano, its aftermath, and the intrepid scientist who discovered one of the world's greatest paleontology sites–an ancient Nebraska waterhole filled with the fossilized skeletons of hundreds of animals that look like they came straight out of Africa. Rhinos in Nebraska is a Junior Library Guild Gold Standard selection. Godwin Books/Henry Holt Books for Young Readers. Also available as an audiobook!
Rhinos in Nebraska fits perfectly into the fourth grade curriculum, and there are literacy activities available, to boot!
Bonus!

If you order Rhinos in Nebraska from Francie & Finch Bookshop you will receive a signed book, a bookmark, and a vial of volcanic ash from Ashfall Fossil Beds. Note in the comment box how you would like the signature personalized.

Other ordering options:

Now Out!
Ninjas and puppies and popcorn, oh my! Learn thousands of crazy cool facts in this final installment of the Awesome Facts series.
Order now:

Need more wacky stories you have to read to believe? Weird But True! Ripped from the Headlines 3 has 'em!
Order now:
Just in time for the 2016 Summer Olympics, Weird But True Sports! 300 wacky facts about all things sports. Get your copy at any of these booksellers:

It's here! It's here! Weird But True! Ripped from the Headlines 2 is now available. (Chapters 1, 2, 3, and 5 written by yours truly.)
I can honestly say I've never had so much fun working on a project.
Buy now: